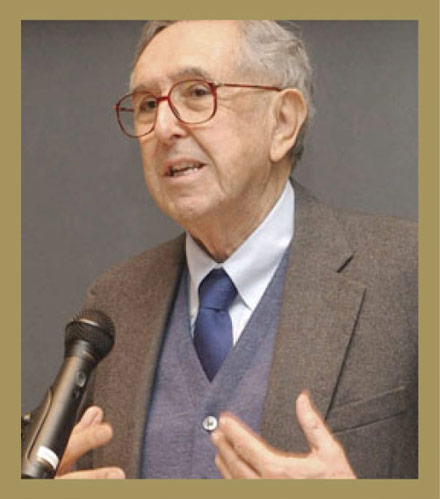 Design for Tomorrow's Legendary Landmarks
Cesar Pelli
World Financial Centre in New York... Petronas Twin Towers in Kuala Lumpur... ifc in Hong Kong... they are just a few of the legendary landmarks pioneered by the internationally renowned master architect, Cesar Pelli. Inspired by the elegance crystal jewel box, Cesar Pelli has created his most majestic achievement to date. As the mastermind behind Beijing World Financial Centre, Pelli has successfully crafted a timeless celebration of the entrepreneurial spirit.
Pelli Clarke Pelli Architects

7.

Curtain Wall

Design Consultant

Meinhardt Facede Technology (H.K) Ltd

2.Design Institute

Beijing institute of Architectural Design("BIAD)

8.

Landscape Design

Consultant

ACLA

3.

Architectural

Design Consultant

Palmer and Turner Consultants(Shanghai)Ltd("P&T)

9.

Traffic Engineering And

Planning Consultant

LLA Consultancy

4.

Sturctural

Enquneering Consultans

Ove Arup & Partners Hong Kong Limited("LERA")

10.

Lighting Design

Consultant

Brandston Partnership

5.

Mechanical and

Electrical Engineer

Palmer and Turner Consultants(Shanghai)Ltd.("P&T")

11.

Quantity Measurement

Consultant

Libi Construction Quantity Surveyor Co., Ltd

6.

Interior Design

Consultant

Hexibedner United Hotel Consultants Co., Ltd

12.Principal Contractor

China Construction First Engineering Bureau (Group) Co., Ltd
Area
Area Covered

About 21,653 m²

Office Area

Approx. 183,501.63 m²

Retail Area

Approx. 19,692.3 m²

Building height

100 m

Layer Number

24

Typical Floor Area

Approx. 4,500 m²

Utility Rate

70%

Parking Space

1,278
Electrical Provision
Dual power supply from two separate sources
Dual-power supply for each floor
Installed capacity: 25,200 KVA including 10,000 KVA

(4 x 2,500 KVA transformers) for office floors and trading floors

Load distribution: 100 VA/m² for typical office floors and 140 VA/m² for trading floors
Emergency power supply
Air-Conditioning And Ventilation
VAV system
24-hour chilled water supply
Fresh air supply rate at 40m³/p/hour for a typical office floor
Floor design arrangement
Number of floors

24 floors per tower (2 towers in
total: East & West Tower)

Typical office floor

17

Number of trading floors

3

Number of electromechanical

floors

2

Number of retail floors

2 above ground / 1 underground

Structural loading (Office)

400kg / m²

Structural loading (Trade Floor)

500 kg / m²

Structural loading (The Core)

1,200 kg / m²
Cross Building Standard
Metal ceiling system
Lamp panel
VAV air conditioning system
Elevated floor
Fire control system (automatic spraying)
Smoke detector
The layout of the main air supply pipe is installed by following the open office layout
District operation elevator of luxury business lobby
By having the imported stone materials,bright lights and special crystal walls, it creates a modern and luxurious business lobby of the World Financial Center. here are 34 high-speed elevators in the two building, which are divided into three zones: high, medium and low. In addition, there are two special elevators for executive, four freight elevators and four elevators for the the parking lot.
We understand the needs of our businessman and enterprises, the waiting time of the elevators is less than 30 seconds in the peak hours to ensure providing a high efficiency standard.
Meticulous security system for anytime, anywhere
Comprehensive Building Management System (BMS).
Digitalize security system with CCTV cameras
All-round security scheme is applied to meet the needs of financial enterprises. Including,
1.80,000 building management system points provide personalized security for tenants, and ensure the convenience of free monitoring;
2.More than 600 real time CCTV cameras monitor, and the recording will be saved for security checking used.
3.The preventive security system includes personal smart card electronic system to for tracking access easier;
4.The five-level warning alarm system, internal security team, fire escape ladder;
5.24-hour central control room protect our financial enterprises.
Magnificent outdoor Landscaping and indoor winter Grand that Blossom All Year Round
Beijing World Financial Centre not only has Beijing's large office buildings supporting outdoor garden landscape, but also has a large indoor winter garden, and regular changes of various vegetation to ensure that the landscape evergreen. When you are in Beijing World Financial Centre, it is another world, and it is sure to let you enjoy a happy state of mind besides hard work.
Top tier office space
Designs with the vision of offering the flexibilities for corporate expansion are offered here in wfc: 18.9 meters depth from the core to the glass curtain wall a column free space with 4,500 square meters floors area in each floor The height of the raised floor is 190mm for managing the wiring layout easier 2.75m clear ceiling height for typical office floor 3.3m clear ceiling height for trading floor.